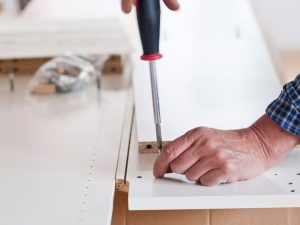 Did you just buy a new couch for your living room, a new mattress for your bedroom, or another big piece of furniture for another part of your home? If so, you might be wondering how in the world you're going to get it from the store to your home. There are some stores that provide you with furniture delivery, but there are also many that will force you to figure out how to get your furniture home. If you don't own a truck to move furniture yourself, Mitchell's Movers can set you up with same-day service in Chesterfield, VA (North Chesterfield, VA), Richmond, VA, Glen Allen, VA, and Midlothian, VA and pick up and drop off your furniture.
Mitchell's Movers has a fleet of moving trucks big enough to handle almost any furniture you throw at us. Whether you need to move a gigantic sectional couch, an entire bedroom set, or something else that's too big to fit in the back of a pickup truck, we've got you covered. Our furniture delivery services are second to none and ensure your furniture makes it to your home in one piece. Mitchell's Movers can also provide you with piano delivery services and transport several other large items, including:
Don't try to cram a big piece of furniture into the back of a pickup truck when you know it's not going to fit. Don't spend a fortune renting a moving truck to move a single piece of furniture or a piano, either. Instead, let the furniture delivery team at Mitchell's Movers deliver same-day service and get any oversized items you want from point A to point B quickly and safely. We'll prevent you from having to stress out about it and keep your heavy items protected at all costs when you trust us to make a furniture or piano delivery.
Reach out to Mitchell's Movers at 804-920-0646 to schedule same-day service for a furniture delivery in Chesterfield, VA (North Chesterfield, VA), Richmond, VA, Glen Allen, VA, or Midlothian, VA.